David J. Middlebrooks
Alabama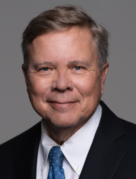 Lehr Middlebrooks Vreeland & Thompson, P.C.
1914 Fourth Avenue North
Birmingham, AL 35203
United States
Tel: (205) 323-9262

Email:

dmiddlebrooks@lehrmiddlebrooks.com
Web:

www.lehrmiddlebrooks.com
David Middlebrooks is a founding shareholder and a senior litigator who has tried jury verdict cases involving every aspect of the employment relationship. He has litigated cases involving claims of sexual harassment, retaliatory discharge, disability, age, religion, race and sex discrimination, wage and hour collective actions, unfair labor practices, as well as cases involving claims of multiple chemical sensitivity, invasion of privacy, negligent supervision, intentional infliction of emotional distress, fraud, whistleblower and breach of contract. David assists employers in problem prevention and legal analysis of complex employment issues. David also heads our Affirmative Action compliance practice for clients covered by Executive Order 11246, providing plan drafting, mock audits, record-keeping training, and audit defense.
David was born and raised in Birmingham, Alabama. He completed his undergraduate degree at the University of Alabama in Tuscaloosa, majoring in employee relations in the business school. He attended Cornell University in Ithaca, New York where he received a Masters from the School of Industrial and Labor Relations. Over the next seven years, he worked in labor relations and human resources in the chemical and aluminum industry in Louisiana. During this time, he dealt with more than a dozen unions (including a strike of over a year), administered hourly and white collar compensation plans, and was responsible for executive and professional recruiting. With an understanding spouse and two children in tow, David left south Louisiana for Tuscaloosa to attend law school at the University of Alabama, where he also taught employee relations courses in the business school.
David is rated "AV" by Martindale-Hubbell, the highest rating available given by other attorneys regarding legal ability and ethical standards. He has been ranked in the top ten attorneys in the state by Super Lawyers and he is recognized in Chambers USA as a leading employment defense attorney and described by clients as an "intelligent lawyer with an excellent courtroom style." In addition, David was elected a Fellow of the College of Labor and Employment Lawyers. Most recently, David was was recognized in the 2022 Edition of The Best Lawyers in America (published in August 2021) in the areas of Employment Law, Labor Law, and Labor and Employment Litigation.
Although our attorneys cover the full range of employment issues, our representation in each area is built upon these philosophical foundations:
STRATEGIC PLANNING
We believe that all labor relations must be approached within the context of a strategic plan, defined by the client's long term business objectives and its labor and employment environment. From major decisions (such as the protection of your distribution network) to the less complex decisions (like distributing handbooks to non-union employees), all labor and employment decisions should be made within this comprehensive framework. Although our clients' goals vary widely, we work with each to develop an overarching set of principles to guide all other decisions in both their union and non-union environments.
CONTINUITY OF REPRESENTATION
Although our firm has the professional depth to deal with any contingency that may arise, we believe that it is important for our clients to have access to attorneys who are intimately familiar with their operations and are ultimately responsible for meeting their strategic goals. Particularly in geographically-dispersed businesses, our attorneys are often some of the few persons familiar with both the labor history and the larger strategic implications. To this end, when our firm commits a team of attorneys to handle your work, these attorneys will remain with you throughout our relationship.
RESPONSIVENESS
In the same spirit, we recognize that the urgency of most labor and employment matters demands immediate access to your labor counsel. Thus, our attorneys are accessible day and night and are prepared to respond to your needs immediately. When we commit an attorney to you, our goal is to respond as if you were that attorney's only client. We invite you to consult our other clients on this measure; many have been startled by the immediacy of our response.
EFFICIENCY
Although different clients prefer different mixes of services, our firm's goal is for our clients to use our services efficiently and effectively. In developing a labor and employment strategy, our role includes identifying areas where our involvement is not needed. With appropriate training and development, many of our clients need to call on us only for the strategic and the complex. To reach this level of efficient representation, we work with our clients to develop their human resources staff to handle those issues which do not warrant the expense of an attorney.
Lehr Middlebrooks Vreeland & Thompson, P.C., practices labor and employment law on behalf of management, with a focus on management rights and the actions that management can take, rather than those they can't. We pride ourselves on providing prompt, high-quality, creative legal services and solutions. Our philosophy is that labor and employment counsel is a collaborative process with our clients, designed to meet their business objectives.
We believe that our diverse team of attorneys, our full support staff, and our nation-wide practice are our greatest strengths. We are committed to continually investing in state-of-the-art technology to provide our clients with the most responsive and efficient service possible.