Samantha Pryor
Colorado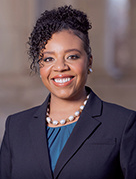 The Halliburton Law Firm, LLC
8354 Northfield Blvd
Building G, Suite 3700
Denver, CO 80238
Tel: (303) 803-1060

Email:

spryor@thehalliburtonlawfirm.com
Web:

www.thehalliburtonlawfirm.com
Mrs. Pryor formed The Halliburton Law Firm, LLC on September 4, 2012. Since founding the firm, Mrs. Pryor has successfully represented hundreds of businesses and individuals in all aspects of civil lawsuits and appeals, and in negotiating complex business matters, severance agreements, contracts, and pre-litigation matters.
Mrs. Pryor was admitted to practice law in October 2007. During her years of practice, Mrs. Pryor developed a diverse civil and commercial litigation practice in both state and federal courts, representing individuals and businesses of all sizes. Mrs. Pryor's legal practice focuses on employment law, business matters and personal injury law. Mrs. Pryor has experience in arbitrations, mediations, appeals, depositions, jury and bench trials, small claims matters, administrative law matters, and civil protection order cases.
Mrs. Pryor has extensive motions practice experience and has received many compliments from her colleagues and clients for her superior legal research, analysis, and writing abilities. Throughout her practice, Mrs. Pryor has also been highly effective in negotiating amicable settlements between litigants, without the need for hiring mediators or other neutral third parties. Due to her breadth of experience and passion for resolving conflicts, Mrs. Pryor became a Mediator and formed Resolution Advocates in 2016.
Mrs. Pryor was born and raised in northeast Denver, CO. After graduating from Montbello High School in 2000, Mrs. Pryor attended Clark Atlanta University, where she earned a Bachelor's Degree in Business Administration, with a double concentration in Finance and Accounting.
Upon graduating with honors from Clark Atlanta University in 2004, Mrs. Pryor returned to her roots in Denver, CO and attended law school at the University of Denver Sturm College of Law. In law school, Mrs. Pryor focused her studies on business law, securities, contracts, and general civil litigation. Mrs. Pryor began her litigation career while attending law school. Mrs. Pryor was selected as a student attorney in the Civil Litigation Clinic and represented indigent clients in civil protective order cases and landlord-tenant matters in Court. She has also interned with the Colorado Supreme Court Office of Attorney Regulation Counsel, the First Judicial District Attorney's Office, and Isaacson Rosenbaum, PC, a former, prominent Denver law firm.
Mrs. Pryor was admitted to practice law on October 22, 2007. After earning her law license, Mrs. Pryor was hired as an associate attorney at Hall & Evans, LLC, a prestigious law firm in Denver, CO. As an associate attorney, she established valuable relationships and gained invaluable training and experience in civil and commercial litigation matters.
Awards and Recognitions
Denver Business Journal 2017 40 Under 40
Colorado Super Lawyers Rising Star, 2013, 2014, 2015, 2016, 2017, 2018
Colorado Bar Foundation Fellow, 2018-present
Legal Memberships and Appointments
Colorado Supreme Court Unauthorized Practice of Law Committee, Appointed Member, 2010-present
Denver Bar Association Board of Governors, 2017-present
American Bar Association TIPS Corporate Counsel Committee Vice Chair of Publications, 2009-2013
Colorado Bar Association, Member, 2007-present
Denver Bar Association, Member, 2007-present
Sam Cary Bar Association, 2004-present
Colorado Women's Bar Association – 2017
Education
University of Denver, Sturm College of Law, J.D. 2007
Clark Atlanta University, B.A. Business Administration – Finance & Accounting, Magna Cum Laude, 2004
Montbello High School, 2000
Admitted to Practice
Colorado, 2007
U.S. District Court, District of Colorado, 2008
U.S. Court of Appeals, 10th Circuit, 2008
The Halliburton Law Firm, LLC is a full-service law firm that serves businesses and individuals across the state of Colorado. Staffed by a highly competent legal team, and backed by more than 10 years of experience in the legal industry, you can trust The Halliburton Law Firm, LLC to satisfy your legal needs.
The Halliburton Law Firm offers top-quality legal services to individuals and businesses in the areas of civil and commercial litigation, business consulting and advising, contract preparation and negotiations, and personal injury.