Beth Nedrow
Montana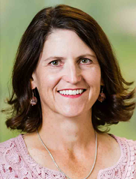 Holland & Hart LLP
401 North 31st Street
Suite 1500
Billings, MT 59101
Tel: 406.896.4635

Email:

enedrow@hollandhart.com
Web:

www.hollandhart.com/
Beth has over 20 years' experience advising companies on executive compensation and employee benefits.
Beth knows how to help employers of all sizes structure benefit programs that not only comply with ERISA and the Internal Revenue Code, but also fit the company's goals and circumstances. She works with public and private companies, retirement and welfare plans, M&A transactions, and compliance work. Beth is adept at untangling complex Section 409A problems, drafting and documenting effective equity and executive compensation arrangements, and assisting on efficient ways of performing ERISA fiduciary functions.
Beth's advice is necessary and appreciated by a wide variety of departments and personnel, including board members, CFOs, fiduciary committees, and human resources staff members.
The costs associated with attracting, incentivizing, and retaining the best talent make proactive planning and management business imperatives.
Our sophisticated team provides pragmatic solutions that manage liability risks and protect an employer's interests, reputation, and business objectives. With one of the largest management-side labor and employment practices in the Mountain West, we can quickly and efficiently draw on the expertise of more than 40 attorneys with significant experience in virtually every area of labor and employment law.
We partner with our clients to ensure that best practices are in place and legitimate business reasons motivate employment decisions. To help avoid costly litigation and business distraction, we talk through day-to-day employment issues and help you handle urgent workplace situations to prevent employment crises from arising. To minimize the exposure and liability that can result from non-compliant or simply ineffective processes, we design tailored training programs and conduct voluntary audits that help you identify and fix problems before an outside agency or lawsuit forces you to do so.
When disputes do occur, we will vigorously defend and guide you through dispute resolution, administrative proceedings, settlement negotiations, or aggressive and focused litigation to meet your definition of "win."
Founded in 1947, Holland & Hart is a full-service Am Law 200 firm with offices in eight states and in Washington, D.C. We deliver integrated legal solutions to regional, national, and international clients of all sizes in a diverse range of industries.
Locations: Anchorage, Aspen, Billings, Boise, Boulder, Carson City, Cheyenne, Denver, Denver Tech Center, Jackson Hole, Las Vegas, Reno, Salt Lake City, Santa Fe, Washington, D.C.